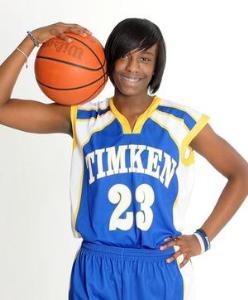 2013 All-Stark County girls basketball: Alahna Singleton
Mar 26, 2013 1:11 PM
23 Alahna Singleton
Timken
5-foot-9, junior
• Gets buckets in variety of ways.
• Led Stark County in scoring at 25.3 points a game.
• Has scored 1,365 career points, good for first in Timken history and 18th in Stark County history.
• Scored school-record 40 points against Alliance, breaking mark she set last year.
• PAC-7 Player of the Year.
• Three-time PAC-7 first team, two-time Repository Stark County first team.
• Averaged 9.6 rebounds and 3.8 steals. Shot 72.3 percent from foul line.
Edited: Mar 26, 2013 1:11 PM by Canton Repository